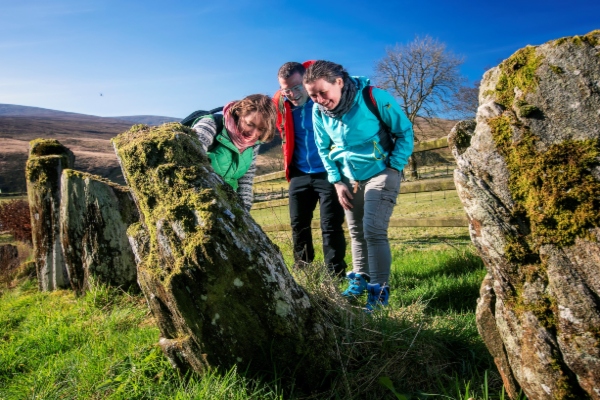 As the vibrant hues of autumn sweep across the Northern Irish landscape, Omagh & the Sperrins Region welcomes you to experience the magic of the season. This enchanting area, nestled amidst the golden foliage and crisp mountain air, invites travellers to explore its diverse attractions and hidden treasures. From serene retreats to cultural wonders, there's something for everyone to enjoy.
1. The Hideaway Retreat: Escape the hustle and bustle of everyday life and indulge in tranquillity at The Hideaway Retreat. Surrounded by nature's symphony, this luxurious haven offers a sumptuous sauna, breath-taking views, and a chance to reconnect with your inner peace.
2. Ulster American Folk Park: Step back in time at the Ulster American Folk Park, where history comes to life. Explore authentic homesteads and interact with costumed characters who share the captivating tales of Irish emigrants who journeyed to America during the 18th and 19th centuries.
3. The Abingdon Collection: Car enthusiasts, rejoice! The Abingdon Collection showcases a stunning array of vintage cars and motorcycles, providing a delightful experience for aficionados and curious visitors alike.
4. Gortin Glen Forest Park: Immerse yourself in nature's grandeur at Gortin Glen Forest Park. Embark on picturesque trails, breathe in the crisp, autumnal air, and marvel at the majestic trees adorned in shades of gold and crimson.
5. Glenpark Estate: Discover the charm of Glenpark Estate, a hidden gem with meticulously manicured walks and huge historical significance. Take a leisurely stroll amidst the fall foliage and admire the timeless beauty of this estate.
6. Brie's Barista Bar: Warm your soul with a cup of freshly brewed coffee or indulge in delightful pastries at Brie's Barista Bar. This cosy café offers a perfect respite for walkers and hikers, serving not just beverages, but also smiles and moments of bliss.
7. An Creagán: Immerse yourself in the rich culture of Omagh & the Sperrins Region at An Creagán. This cultural centre hosts a variety of events, workshops, and traditional music performances, providing an authentic glimpse into Northern Ireland's heritage.
8. Gortin Glen Glamping: Experience the ultimate blend of comfort and nature at Gortin Glen Glamping. Nestled within the heart of nature, these luxurious glamping accommodations offer a unique way to experience the outdoors without sacrificing modern amenities.
9. Foyle Trails: Lace up your hiking boots and embark on a scenic adventure along the Foyle Trails. With trails catering to various difficulty levels, these paths offer a chance to witness the autumnal beauty up close, making it a paradise for nature enthusiasts and photographers.
10.Silverbirch Hotel: Nestled amidst the serene landscapes of Omagh, Silverbirch Hotel invites you to a world of luxury and warm hospitality. Immerse yourself in the perfect blend of comfort, style, and convenience as you embark on your memorable stay.
This autumn, Omagh & the Sperrins Region invites you to savour the season's splendour. Whether you're seeking relaxation, cultural enrichment, or outdoor adventures, this captivating destination promises an unforgettable experience.
For more information about Omagh & the Sperrins and to start planning your trip, visit www.exploreomaghsperrins.com. Follow us on social media @exploreomaghsperrins for the latest updates and inspiration.