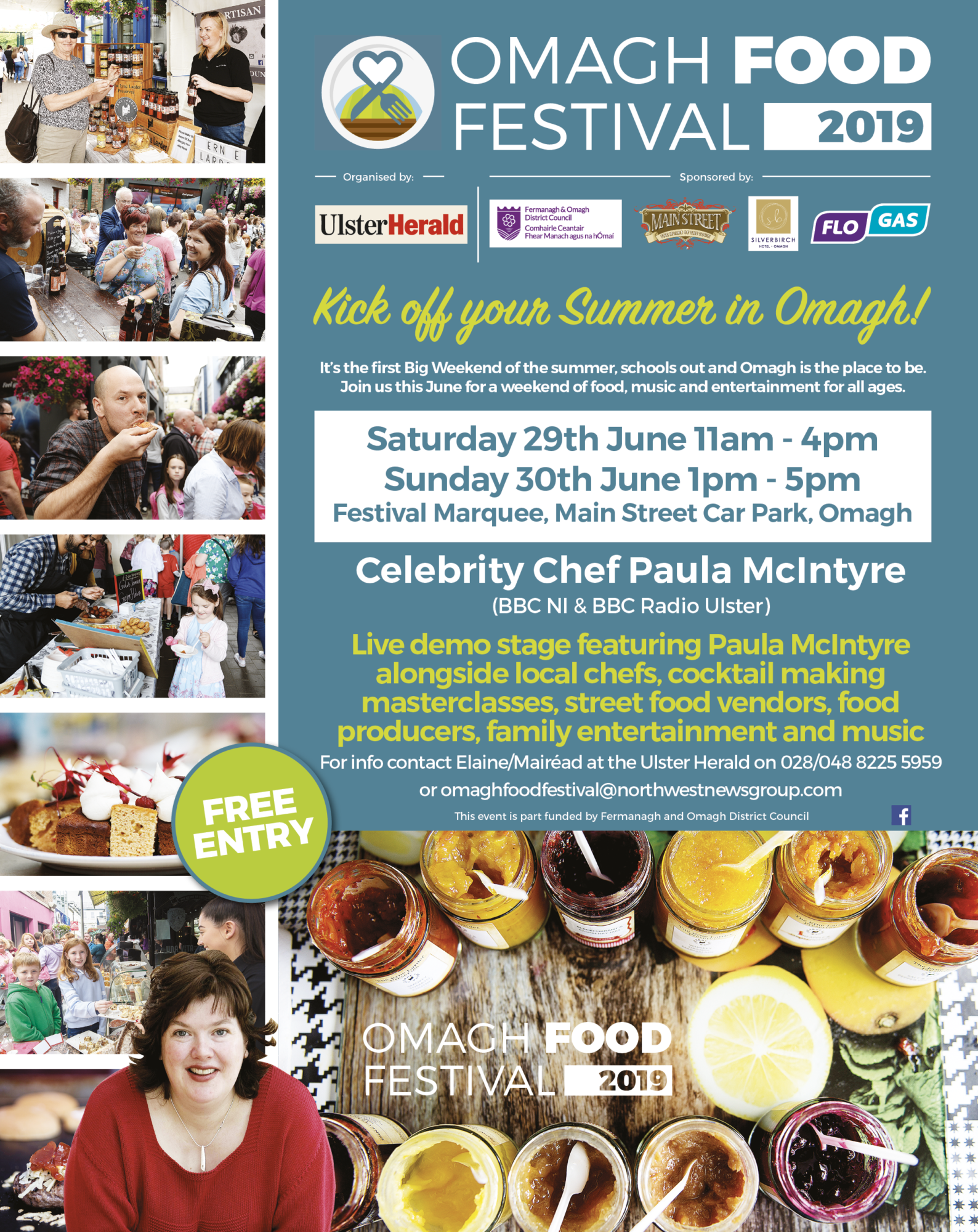 Calling all Foodies!
THE annual Omagh Food Festival is back and this year it promises to be bigger and better than ever. The festival will take place over two days under a festival marquee in the carpark located adjacent to Main Street, Omagh (Kevlin Avenue). The space will be transformed into foodie heaven where indoor and outdoor food/drink producers, street food vendors and suppliers will showcase their wares to all.
The Ulster Herald Omagh Food Festival team are delighted to welcome back the fabulous and entertaining celebrity chef Paula McIntyre. The BBC Radio Ulster chef will lead the live cooking demo stage and will be joined by local chefs and food producers throughout the two days. Together they will cook up a storm and create their favourite dishes. Those in attendance may be lucky enough to get a taster of the final dishes, so make sure to grab a seat daily! This year the festival has added a cocktail making demo to the live stage, the folks from a local distillery are sure to create some delicious drinks.
Something for everyone…
The event is aimed at bringing together local producers and people with a love for food and there is something for all the family at Omagh Food Festival. In addition to the wide range of exhibitors & live cooking demos there is music, face painting and cupcake decoration for kids, all part of the line-up to the free event.
On Saturday June 29th, the programme kicks off at 11am and on Sunday June 30th, the event kicks off at 1pm with live cooking on stage with chefs from local restaurants and hotels plus cocktail demos. Celebrity Chef Paula McIntyre (BBC) is hosting the cookery demo unit and will have her own slot for 45 minutes were she will cook up a fabulous meal using ingredients form the Food Festival traders. Recipes from the dishes created will be posted online for event visitors to recreate when they get home into their own kitchens!
As the daytime event draws to a close various bars and restaurants around the town are hosting a range of exciting bands, musical performances and food festival related menus.
So remember, that's Omagh Food Festival, guaranteed to serve some tasty treats, 11am-4pm on Saturday June 29 and 1pm-5pm on Sunday June 30.
For further information contact Elaine Fyffe-Harper or Mairead Kelly at the Ulster Herald on 028 8225 5959. Find us on Facebook @omaghfoodfestival or visit ulsterherald.com and click on Events.