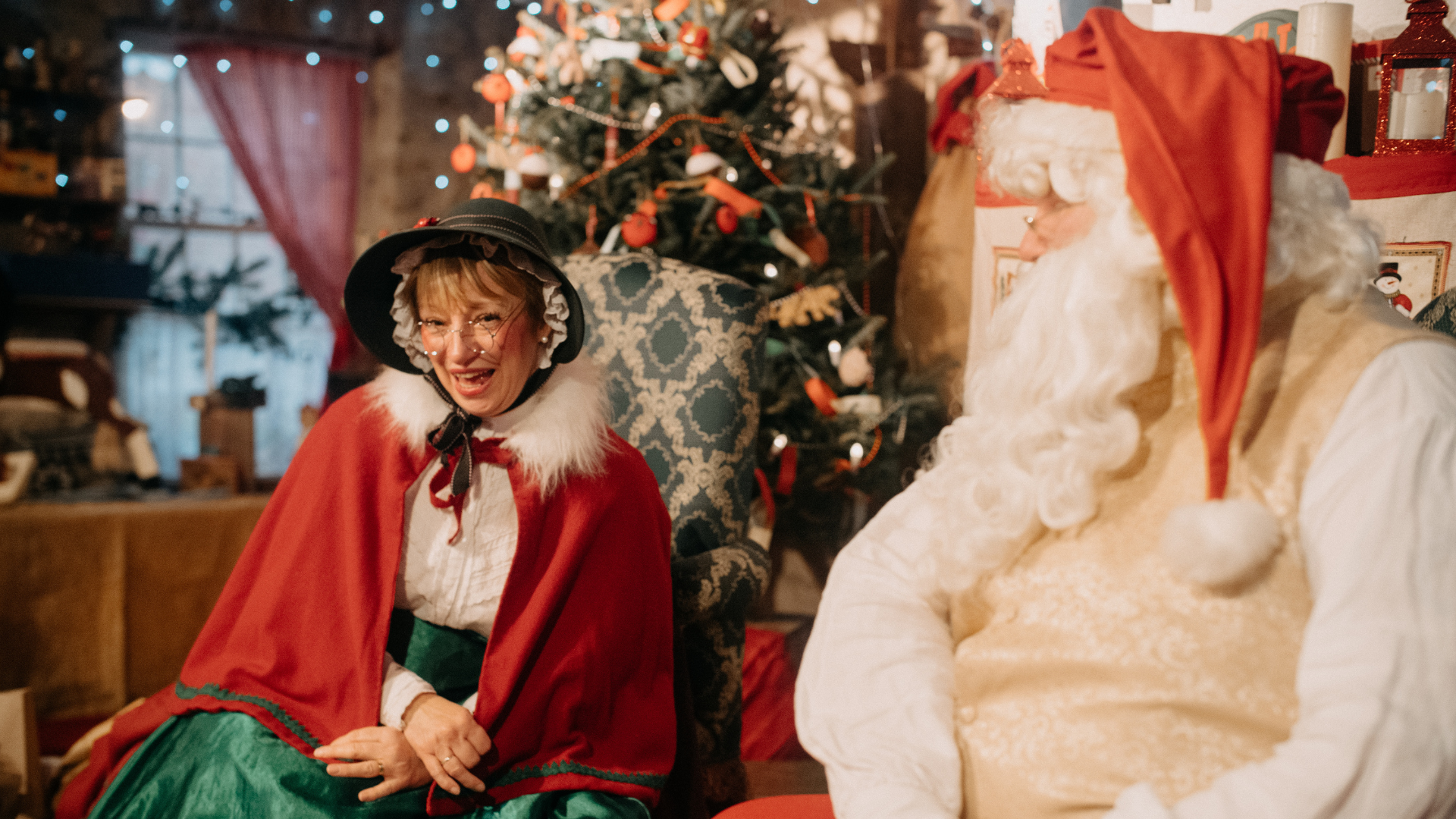 Here at the Ulster American Folk Park, Father Christmas and Mrs Claus are toasting their toes by the turf fire before they pack up the sleigh for Christmas!
The North Pole elves are busy getting things ready and spreading magic dust wherever they go. Did you know that only children who truly believe in Christmas magic can see the elves? They aren't so fond of grown-ups!
Take in the magic of Christmas with a stroll through the snowy streets of Ulster and America, where one of our elves will then guide you to the magical home of Father Christmas and Mrs Claus. If you've made it on the good list, you might even receive a traditional wooden gift to bring home.
While you're there, meet the Chief Story Elf for readings of the 'Night before Christmas' and fill up on Christmas shortbread and mulled spiced apple juice.
What to know:
Tickets are £17.50 per child (aged 0 to 12) and £12.50 per adult. Children must be accompanied by a paying adult.
This Father Christmas experience takes place at Ulster American Folk Park in Omagh, not to be confused with the Ulster Folk Museum in Cultra. When buying tickets, please make sure you have chosen the correct museum and event, as tickets are non-refundable and non-transferable.
Please arrive at least 15 minutes before your time slot as this will be the departure time of your visit. If you arrive late, we cannot guarantee you a place on another time slot.
Dates & Opening Times
Friday 8th December (17.30, 18:15, 19:00, 19:45)
Saturday 9th December (11:00, 11:45, 12:30, 14:00 and 14:45)
Sunday 10th December – (11:00, 11:45, 12:30 and 14:00)
Friday 15th December (17.30, 18:15, 19:00, 19:45)
Saturday 16th December (11:00, 11:45)
Sunday 17th December – (11:00)
Wednesday 20th December (11:00, 11:45, 12:30, 14:00, 14:45, 15:30)
Thursday 21st December (11:00, 11:45, 12:30, 14:00, 14:45, 15:30)
Friday 22nd December (11:00, 11:45, 12:30, 14:00. 14:45, 15:30, 16:15, 17:00, 17:45, 18:30)
Saturday 23rd December (11:00, 11:45, 12:30, 14:00, 14:45, 15:30)
Admission: Adult – £12.50 Child – £17.50