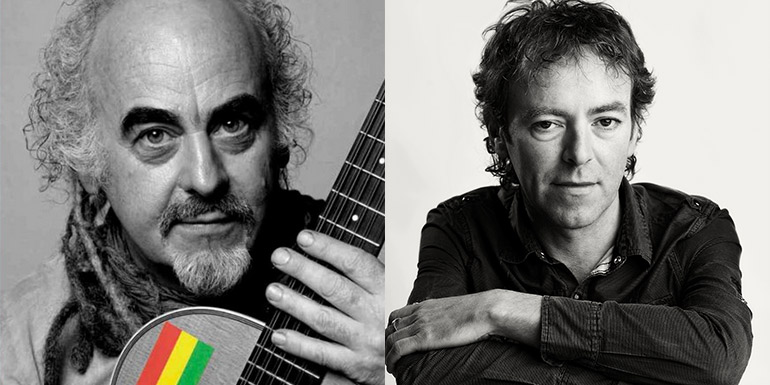 Steve Cooney is best known for his development of an influential style of guitar accompaniment to traditional Irish dance music which he developed in West Kerry, and for which he won the National Entertainment Award with Séamus Begley in 1997.
Born in Melbourne Australia in 1953, he came to Ireland in 1980 and maintains his connections with the Aboriginal culture there, into which he was initiated. He has ancestral links with Tipperary, Cavan and Galway. He has participated in making more than 250 CD's, either as a guitar or bass player or as producer and engineer. Also a poet and songwriter, he has worked with many iconic international artists in rock and country music but his primary focus is Irish traditional music, and fusions of that genre. He recently released a CD of solo guitar interpretations of ancient harp tunes, Ceol Ársa Cláirsí: Tunes of the Irish Harpers for Solo Guitar. He is also recording fusion music with his band Éiníní. He completed a Ph.D. in 2018 at NCAD on an intuitive musical notation system that he developed for early learners and those who experience difficulties with staff notation, and he lectures in tertiary institutions on the calculation of harmony and syncopation.
In 2020 he was given the RTÉ Folk Awards 'Lifetime Achievement' Award.
He is currently preparing the release of the CD 'Rhapsody and Rascality' with his band Éininí.
Dermot Byrne's seemingly effortless playing, combined with great subtlety, and a faultless ear, makes him one of the great accordion players of his generation. He is one of Ireland's foremost traditional musicians having been awarded the Irish Television station, TG4's Traditional Musician of the Year  2013.  From Buncrana in the Inishowen peninsula, the most northerly part of Donegal, he played accordion from a young age with his father the inspirational Tomás O'Beirn, (Tommy Byrne) an enthusiastic promoter of the tradition. Dermot has had the good fortune to meet all the greats of Donegal music, including Johnny Doherty, Con Cassidy and Tommy Peoples making a great impact on the young Dermot, who went on to develop a unique style.  A long-time anchor of Altan, Byrne's subtlety as an accordion player has always marked him apart.  In between he has found time to collaborate with Parisian harpist Floriane Blancke with Brendan O'Regan, Brid Harper and Steve Cooney, Dezi Donnelly and Jim Murray.
As well as his mastery of the Donegal style and repertoire, Dermot can turn with ease to other styles and traditions such as French musette, or South American choro music. Dermot has guested on collaborations with many great musicians including Seamus and Manus McGuire, Sharon Shannon, Frankie Gavin, Pierre Schryer, Tim O'Brien , The Stunning, Salsa Celtica and the late jazz violinist, Stephane Grappelli. His eponymous solo recording, which he has reissued recently, has received great critical acclaim.
Price:
Earlybird: £12.00
Standard: £15.00
U16: £8.00
Family (2 adults 2 U16): £32.00
Book Now: https://www.dunuladh.ie/whats-on/dun-uladh-events/240/