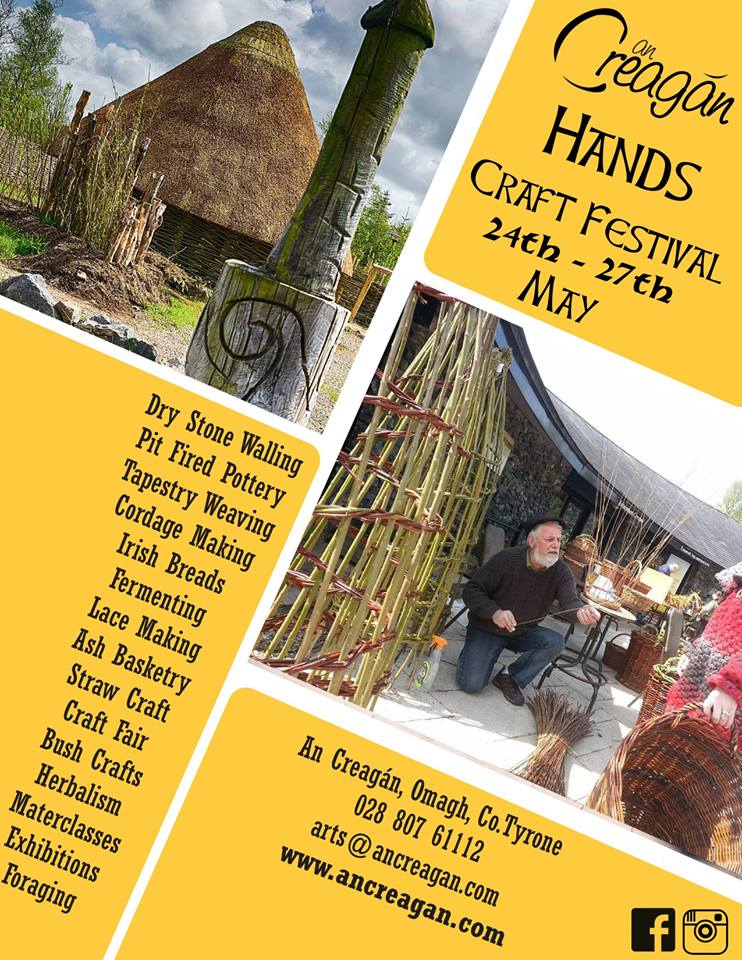 Rediscover Ireland's rich heritage & lost traditional skills
Friday 24th – Monday 27th May 2019
From Friday 24th May through to Monday 27th May An Creagán will host a traditional crafts and lost skills Festival called 'Hands'. Inspired by one of the greatest and well known Irish TV documentaries 'Hands' our festival will give people the opportunity to learn Irish traditional crafts from master crafts people. These skills are seeing an upsurge in popularity due to modern technology as people are inspired to learn a lost tradition through social media.
Traditional Natural Cordage Workshop
Simply put, cordage is thread, string or rope made from natural, foraged fibres. It's a beautiful, slow craft reconnecting you with nature.
You should leave the course with the knowledge of identifying, harvesting, processing and utilising such a range of natural materials it will put you in great stead for any future natural crafts you may wish to try your hand at.
https://www.eventbrite.com/e/1-traditional-natural-cordage-workshop-tickets-56399338941
Straw Craft Workshop
Learn the basics of straw craft with Straw Craft Ireland who are based at the shores of Lough Neagh in North Armagh; an area steeped in the history of traditional Irish crafts. They provide beautifully intricate items woven in straw in a traditional and uniquely Irish plaiting method as well as promoting the continuance of ancient traditional Ulster and Irish crafts, customs and culture.
https://www.eventbrite.com/e/2-straw-craft-workshop-tickets-56399661907
Wild Fermentation Workshop
Fermented foods are packed full of enzymes, vitamins, minerals and probiotics which have a myriad of health benefits. Learn how safe and easy it is to make your own fermented foods – it will be a marked turn in your health journey.
Entry Fee includes lunch
https://www.eventbrite.com/e/wild-fermention-workshop-tickets-56400167419
Lace Making Workshop
This is a one-day workshop for beginner students. You can expect to learn more about the rich history and tradition of lace-making in the South Armagh area. You will also learn the essential skills of Carrickmacross lace-making under the expert tutelage of your instructors; this will enable you to complete your very own piece of lace to take home. Entry Fee includes Lunch.
https://www.eventbrite.com/e/lace-making-workshop-tickets-56400481358
Foraging in the Wild
Follow the seasons on our foraging walk, to seek out fresh and tasty wild greens. Head out with us on foot to spot edible wild plants and learn the skills you need to harvest and prepare some delicious delights
https://www.eventbrite.com/e/foraging-in-the-wild-tickets-56405249620
Foraging for Families
This short course in foraging is a great way for you to gain confidence in identifying the edible, medicinal and poisonous species out there in the wild, and is the ideal introduction for all beginners who want to develop their interest and knowledge of foraging, also suitable for families. To Book Call 028 807 61112
Sun, May 26, 2019 11:00 AM – 1:00 PM
£5 Adults, £3 Children, under 4's free
Pit Firing Pottery Workshop
An exciting opportunity to experience the ancient technique of firing pottery, Bronze Age style!
You will be given 3 pots to decorate with local clay slips and oxides, taking your inspiration from Bronze Age rock art motifs, pottery and the beautiful bogland surrounding An Creagan.
https://www.eventbrite.com/e/6-pit-firing-pottery-workshop-tickets-56405662856
Frame Loom Weaving
n this experimental workshop you will gain an introduction to the craft of tapestry weaving using a frame loom with designer maker Nicola Gates. You will learn how to create contemporary woven artworks on a simple wooden frame using weaving, knotting and wrapping techniques.
https://www.eventbrite.com/e/frame-loom-weaving-tickets-56412581550
Every Home Needs a Herbalist
In this workshop, we will take a hands on approach to herbs commonly found in the kitchen, the garden or the hedgerow and explore how we can use them for basic healthcare. We'll taste some different preparations such as teas, infusions as well as foods and see how they can be applied to both the prevention and treatment of simple common illnesses.
https://www.eventbrite.com/e/every-home-needs-a-herbalist-tickets-56555112865
Crafts in the courtyard event will be held on Bank holiday Monday 27th May
Inspired by the simple principle that people are fascinated when artists and craftsmen openly demonstrate their skills and discuss their work. Visitors can observe, buy and enjoy exhibitions and performances by local artists. Entry is FREE.