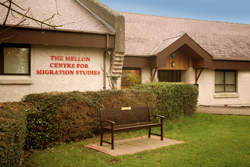 The Mellon Centre for Migration Studies is hosting the Nineteenth Literature of Irish Exile Autumn School on Saturday 20th October.  This year's Autumn School will focus on the history of Irish dancing both here in Ireland and within the diaspora.   Our Guest Speaker, Valerie Wilson, Curator of Costume and Textiles, National Museums NI, who curated the temporary exhibit currently on display at the Ulster American Folk Park, will talk about the curation of this exhibit in her presentation entitled Stepping Up   Charting over one hundred years of the art and crafts associated with Irish Dance.
Learn more about the work of performers, designers and choreographers with a special tour of  "A Step in Time: The Story of Irish Dance" exhibition offered by Pat O'Donell, Assistant Curator Collections & Exhibitions, Ulster American Folk Park.
As usual, following lunch, there will be a short tour of the outdoor museum site persuing the day's theme.
Admission is Stg£20 (£15 concession for students, unwaged and senior citizens) – this includes registration, morning tea/coffee, lunch and afternoon tea/coffee.
We hope you will be able to join us and look forward to hearing from you.  When booking, please indicate if you have any special dietary requirements.
For further information see:  https://www.librariesni.org.uk/Libraries/Pages/Mellon-Centre-for-Migration-Studies.aspx