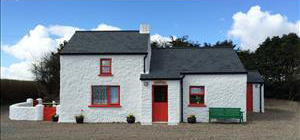 Tourism NI approved 4* Self Catering Accommodation (2 bedrooms) for 4 adults or families with 3 children. A holiday with a difference! Enjoy the simplicity of this newly renovated 200 year old cosy, traditional Irish cottage. Lots of activities are available close to Cobblers Cottage or you may use it as a perfect location for exploring Northern Ireland. "This cottage is an absolute dream, old and new matched to perfection" Trish. "Loved the garden swing, BBQ area and facilities for pets" Joan.
The lovingly renovated Cobblers Cottage has 2 bedrooms (sleeps 5), a new kitchen, bathroom facilities and Wifi while retaining the essence of the traditional Irish country home including the well stocked dresser.
Perfect for families with children, escape to the undisturbed beauty of rural life and enjoy the leisurely freedom our cottage has to offer. Spacious and secure pet enclosure beside cottage. In the daytime take in the great outdoors, with the large, picturesque garden and the readily available BBQ, or even bring a picnic and go exploring with our rentable bicycles. Then at night, whether you're resting in the comfortable bedrooms or snuggling around the authentic fireplace of the quaint living room, we're sure you'll have a perfectly relaxing stay and your time at the Cobblers Cottage will be an experience to remember.
Although you may be happy to enjoy the tranquil separation from the hustle and bustle, the cottage is close to the A505 road & in close driving distance to local towns Carrickmore (6 ml), Cookstown (11 ml) and Omagh (15 ml); with local attractions like the An Creagan Centre (1.4 ml), Beaghmore Stone Circles (5 ml) and Drum Manor Forest Park (7 ml) also nearby. Not forgetting the historical city of Derry, the Titanic Belfast, the Giant's Causeway and the beaches of Donegal, all of which are around 1hr drive away from this central position.
We aim to ensure that you will always have a peaceful and memorable stay here at the Cobblers Cottage.
For best rates call or email the premises directly.